Disclaimer: This post will not have its intended effect if you do not listen to the Game of Thrones theme song on loop. I have provided you with a 10 hour loop (in case it takes you that long) here. "When you play a game of thrones, you win or you die." This may be the case with Game of Thrones – TV book and TV franchise – however it is not the case with the Australian Federal Election (TV, newspaper, radio and internet franchise; simulcast on ABC1 and ABC24). In fact, in the case of the Federal Election, you win or you lose (rather than dying), and then can recontest in 2016. Thus, a conundrum lies before us: why is there so much election coverage, and why does it need to relate all politics to a fictional story in which there are five preferred parties that want to win the throne? Let's be realistic here, in Australian Politics, there are really only two parties that will be contesting for the throne (the throne being the leading party, duh). Nonetheless, it appears that the Game of Thrones trend has surpassed the writings of fan fiction, and entered the realm of this thing I like to call real life journalism (ie. the stuff that's on The Age, or The Australian). See examples here:
There are some great comments underneath too, like this one: "Great, title Grattan … I enjoy the Game of Thrones series and this is representative of a modern day version. Can't wait for the next twist in this saga!" Don't even get me started on all the weird photoshopped pictures going around: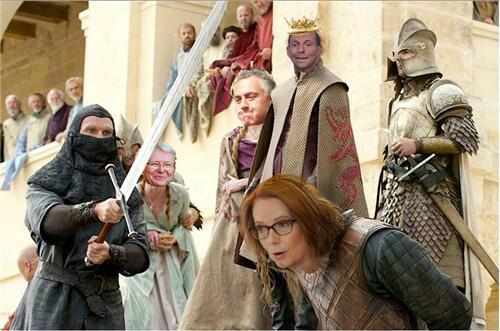 But here's the kicker: of the very few election related videos (other than that amazing punk-rock video where Rudd, Abbott, Palmer and Katter did weird shit) that have gone viral, two have time and time again crossed the radar. Game of Senates: Protect the Senate This video happily explains, with some weird character doubles, what happens when voting for the senate. I mean, it's pretty cool, but come on. They didn't make a strong link between the Senate and Game of Thrones. The most exciting bit about Game of Thrones is the incest, sex, little people, alcohol, and incest sex. Senate has none of those (or does it?). It's pretty weird. There are weird references. https://www.youtube.com/watch?feature=player_embedded&v=DFOU1F5Cmpg Australian Election: A Game of Polls This video explains the leadership struggles of Labor, and then introduces the Liberals, and they're all like, "Look it's like the Game of Thrones! First it was Rudd, then it was Gillard, then it was Rudd again! So much backstab, guys. It's like Game of Thrones, guys."
Oh, and also Julian Assange (of the House Wikileaksean), makes
an appearance. First he dresses as a true blue aussie (mullet and all), then he sings a John Farnham song. So if you watch this video, watch it for that reason. It has nothing to do with Game of Thrones. I think they just wanted him in it. http://www.youtube.com/watch?v=QWU6tVxzO1I (Please be aware that this video is attempting to get you to vote for Assange. Once you get past that though, it's very entertaining). However, I'm still slightly concerned at the obsession of the media comparing the Game of Thrones to Australian Politics. Below I have come to logical conclusions as to why this is. 1. Tyrion Lannister sort of looks like Bill Shorten (also, I have to have an inappropriate laugh at the Shorten last name. I am sorry.)
2. Is the Red Woman (Melisandre) Julia Gillard? Probably not. Gillard isn't really around anymore. In GoT, the Red Woman is still around. Also, she's a witch. So I guess that doesn't really work.
3. Some of the politicians must have sex. Right? There have been sex scandals guys. It's like Game of Thrones. 4. My mum is interested in neither. 4. Game of Thrones is like Australian Politics in the sense that if you don't get into it from the first few episodes, you probably just won't care at all, and get really annoyed at anyone who talks about either politics or Game of Thrones respectively. It would really suck to be reading this blog if you agree with the last point. Must be sad for you. In other news … 1. FINALLY THE FOOTBALL SAGA IS OVER. 2. Kim Jong Un's ex lover (singer of 'Excellent Horse-like Lady') killed in firing squad. 3. Kevin Rudd goes on Reddit. He says things like "Dropbears" and "KRudd Dog". "Ruddit" becomes a thing. 4. Other countries are stagnating with their responses to the Syria situation. It's all about diplomacy, guys! 5. "H8rs gonna h8," says new scientific report. Samantha Winnicki